Apple Crumble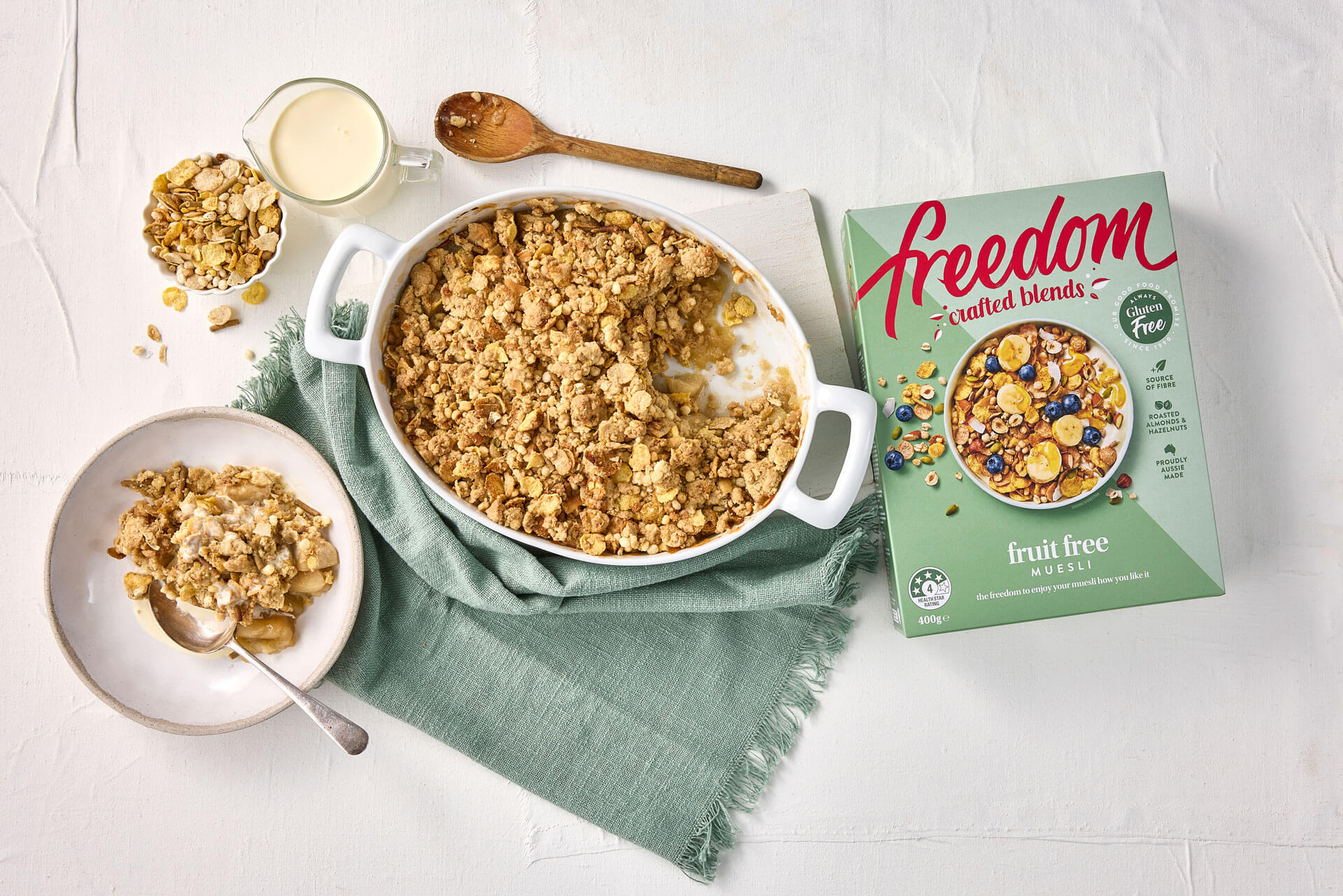 Ingredients
4 large apples, peeled, cored

2 tbsp brown sugar

½ tsp cinnamon

½ tbsp lemon juice

1 tbsp corn flour

¼ cup water

1¼ cup GF plain flour

⅓ cup brown sugar, extra

Pinch of salt

⅓ tsp cinnamon, extra

100g butter, at room temperature

1¾ cup Freedom Fruit Free Muesli

Cream or ice cream, to serve
Method
Step
1
Preheat your oven to 160°C
Step
2
Chop the apples into 2-3cm pieces and place in a medium saucepan over medium-low heat. Add the brown sugar and cinnamon and stir to combine.
Step
3
Allow to cook, stirring regularly, for 5-10 minutes until the apples have softened slightly on the outside but are still crisp throughout.
Step
4
In a small bowl, mix the corn flour with the water to make a slurry and add this to the apples, stirring well. This will thicken the juices in the saucepan so that it coats the apples. Transfer to a 24 x 18cm baking dish and spread into an even layer. Set aside.
Step
5
To make the crumble topping, combine the remaining ingredients except for the muesli in a large bowl. Rub the butter into the dry ingredients with your fingers until it starts to clump, then add the muesli.
Step
6
Combine the muesli with the flour and butter mixture until it is mixed through to make a rough crumb. There should be some large clumps as well as some looser crumbs.
Step
7
Tip the crumble mixture into the baking dish, spreading it in an even layer over the apples. Transfer to the oven and bake for 40-45 minutes.
Step
8
Allow to cool slightly, then serve hot with cream or ice cream.