Corn Flake Fish Tacos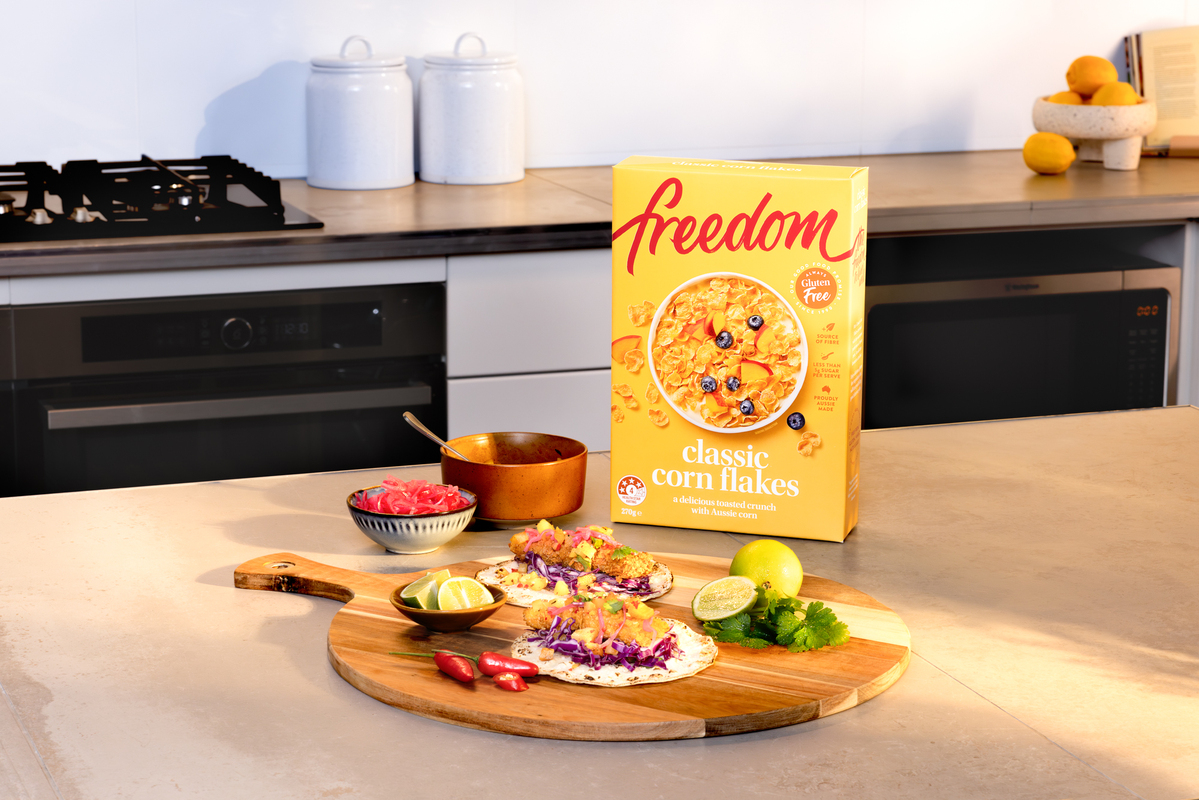 Ingredients
¼ cup mayonnaise

2 tsp lime juice

¼ tsp salt

¼ tsp cracked pepper (optional)

1 tbsp coriander, finely chopped

2½ cups shredded cabbage

½ fresh pineapple, cored and sliced

1 red chilli, finely chopped

2 tbsp coriander, finely chopped

¼ tsp salt

2 cups Freedom Corn Flakes

¼ tsp garlic powder

¼ tsp paprika

¼ tsp cumin

¾ tsp salt

1 egg

⅓ cup GF plain flour

2-3 snapper fillets (~500g)

1 cup vegetable oil

12 GF white corn tortillas

Pickled red onions, coriander and lime, to serve
Method
Step
1
To make the slaw, combine the mayonnaise, lime juice, salt, pepper, and coriander and mix well. Add to the shredded cabbage and stir to coat it evenly in the dressing. Set it aside.
Step
2
Heat a large frying pan over high heat, then add the pineapple slices and cook until lightly caramelised on both sides. Chop the pineapple into small cubes and place in a bowl with the chilli and coriander. Season with the salt and set aside.
Step
3
Place the corn flakes into the bowl of a food processor, add the spices, salt, and process into a rough crumb. Place in a bowl.
Step
4
In another bowl, roughly beat the egg and place the flour in another.
Step
5
Slice the snapper into 10-12cm strips and working one at a time, roll in flour, dip in the egg, then toss into the crumbs and flip until well coated. Repeat until all the pieces of fish are crumbed.
Step
6
In a medium frying pan, heat the vegetable oil over medium-high heat to around 180°C, then fry the fish for 2-3 minutes until golden on all sides. Remove and place on paper towel to drain away any excess oil.
Step
7
Lightly heat the tortillas in a clean frying pan, then to serve, top each tortilla with a spoonful of the slaw, a piece of fish and some of the charred pineapple. Add pickled onions, coriander, and lime to taste.